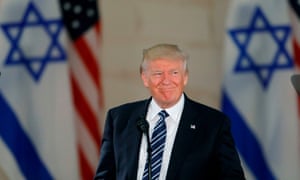 This week, President Donald Trump declared Jerusalem to be the capitol or Israel and vowed to move the embassy there in.... 4 years. While this "bombshell" news story is taking the world by storm, not much, if anything has really changed. In 1995, the U.S. Congress voted to recognize Jerusalem as the capitol of Israel. For the past 22 years, every president has voted to defer the moving of the Embassy for the sake of stability in the Mid-East peace process.
Trump did not change U.S. policy and made a promise he probably intends never to keep. This declaration was a pep rally for President Trump's base and nothing more. In four years, Trump is likely to have been out of office for a year already and his successor will almost certainly be a democrat. If the Embassy is not in Jerusalem before Trump leaves office, it will never get there.
What should be of note is the reaction to President Trump's decree. Obviously, the Muslim Arab world is in a fervor. Already Muslims leaders are declaring "days of rage" and other such hatred against the United States. Many will criticize Trump for stirring up hatred among the Muslims but they already hate America and everything we stand for, lest we forget the celebrations and dancing in the streets after 9/11. Again, little to nothing changes by the Commander in Chief's announcement.
Of particular note is the response from Pope Francis. This blog has been very critical of Pope Francis. Francis may not be the False Prophet of Revelation, but he sure seems to working hard for the title. For more on this CLICK HERE
Pope Francis condemned President Trump's announcement and called for the status quo of the city of Jerusalem to remain. Odd that the self declared Vicar of Christ would be content with a shrine to Satan standing on the Temple mount. Francis pays homage to Satan(Allah) CLICK HERE
Yes, declaring Jerusalem the capitol of Israel will gain Trump lots of press and divert some attention from the Russia probe, however it will most likely amount to nothing.
As believers, we continue to pray for the peace of Jerusalem, we continue to recognize Jerusalem to be the eternal capitol of Israel, the birthright of the Jews and the future Kingdom of our risen Lord. I hope and pray that one day the U.S. embassy is in Jerusalem, but I am not holding my breath.
Pray for Trump, pray for America, pray for the peace of Jerusalem and now - Go live as Christ... and give the devil hell!